Benefit from the expertise of a manufacturer of original equipment, a multi-specialist in timing and engine accessories.
The expertise and performance of an original equipment manufacturer at the service of spare parts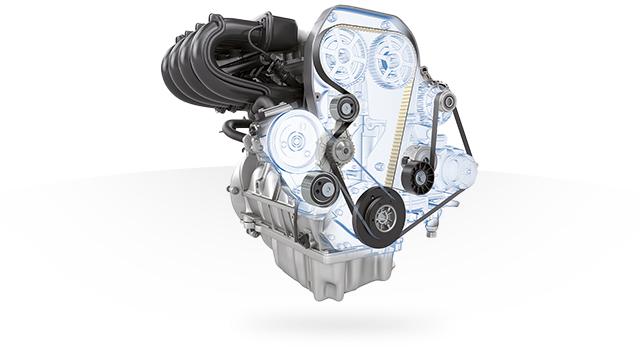 Our position as an original equipment manufacturer has allowed us to gain the trust of the largest car manufacturers. Our full timing and auxiliary belt range cover nearly 94% of the European fleet.
We guarantee:
identical quality to the manufacturer performance specifications
a high level of reliability
a first-class performance
the ability to innovate and design the products of the future
support via our support services and technical communication support
SNR engine timing: a full range from an oem supplier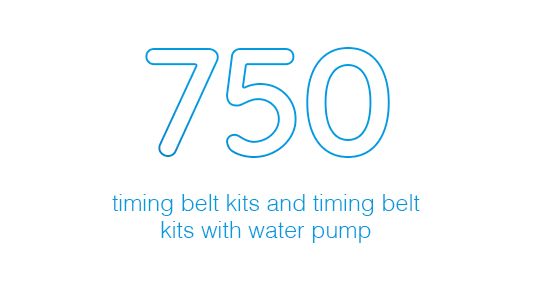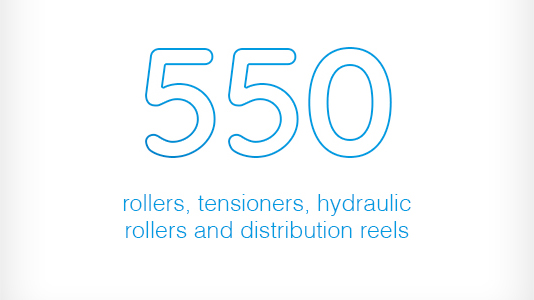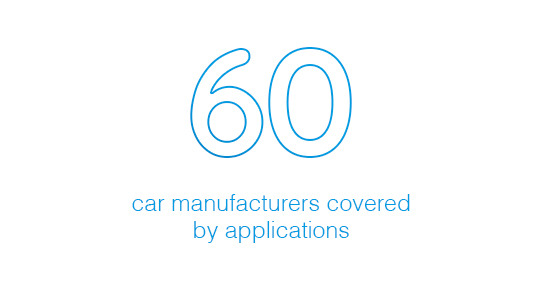 Our range covers all the needs of European and Asian brand vehicles with NTN and SNR brand products, not least thanks to our European and Japanese dual identity.
Timing belt kits with and without water pump
Just like the timing belt itself, rollers and water pumps are also wear and tear parts. So they must be replaced when servicing the timing belt, because whenever any of these components is worn it can cause engine failure.

NTN offers complete kits that ensure the premium quality of all components. It also ensures that all the right parts for the job are on hand and eliminates the risk of part number mix-ups.

SNR timing belt kits with and without water pump include all the parts needed for high-quality replacement:
rollers: static tensioner rollers, bracket or eccentric-mounted, automatic dynamic tensioner rollers, hydraulic tensioners and idler rollers (toothed, flanged or standard)
belts: to withstand ever increasing stress and to extend service life, reinforced or HT belts made of Teflon or Kevlar are used. NTN offers the precise technical solution selected by the vehicle manufacturer.
water pump : NTN has genuine expertise in original equipment. Our factories produce more than one million water pump bearings per year.
hardware: screws, nuts, seals, etc.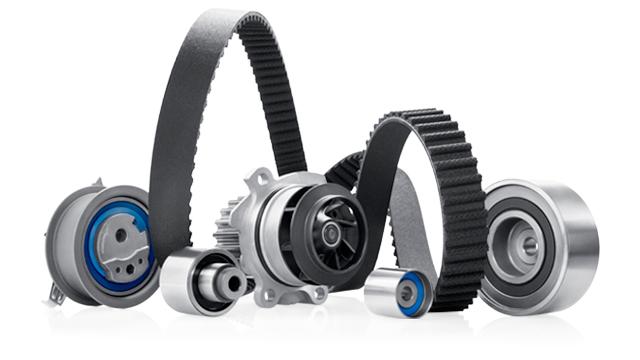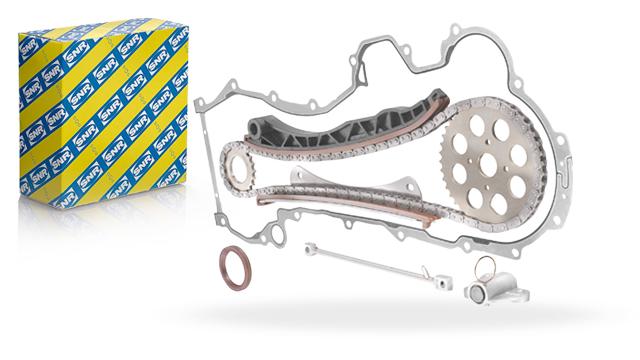 Timing chain kits
More and more vehicles are rolling off automakers' assembly lines with chain-driven engine timing systems. Despite its advantages (service life, more compact engine size), an engine with a timing chain is subject to the same stress as one with a timing belt.

So the chain kit must be checked at regular intervals and the user may need to have their timing chain replaced to restore the engine to its original performance level.
NTN offers a complete range of 100 chain kits that cover the most prevalent needs on the market.
Each kits includes :
chain: situated in the engine block, its job is to synchronise the camshaft, the injection pump and the crankshaft.
hydraulic tensioners: comprising several elements (springs, cylinders, piston rod and seals) and assembled in our NTN factories, they contain oil that can withstand temperature variations.
slider shoes: they are designed to guide and/or tension the chain.
sprockets and VVT: key components over which the timing chain runs. These are toothed wheels whose tooth design and orientation are crucial for perfect synchronisation with the chain. Variable valve timing (VVT) sprockets make it possible to optimise air intake and exhaust in the engine.
Main and auxiliary electric water pumps
Mindful of the new demands of the market, NTN offers a range of electric water pumps including 7 part numbers for main pump applications and more than 40 part numbers for auxiliary electric water pumps.
Main electric water pumps
These pumps are designed to provide cooling and maintain constant temperature in internal combustion engines.

Electric vehicles also have efficient cooling systems: they are used to optimise battery service life and guarantee optimal performance, especially during the fast-charging process.
Such vehicles require multiple cooling circuits. There are two types of cooling systems for electric vehicles: liquid cooling and air cooling.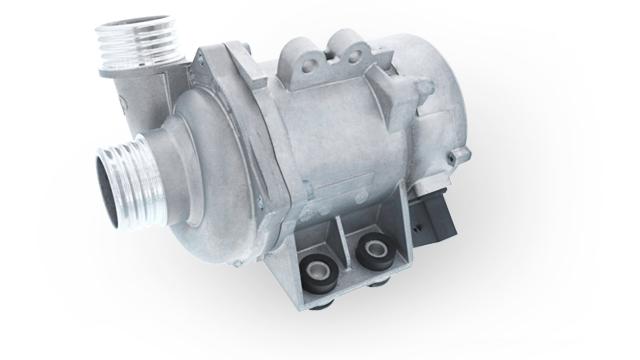 Auxiliary electric water pumps
They are used to cool the turbocharger and the gearbox oil, or to accumulate heat and provide hot air to the passenger compartment when the heating activated. Some IC engine, hybrid and electric vehicles have as many as four electric water pumps.
SNR accessory range: all spare parts for the entire auxiliary system
Our range of auxiliary components is one of the most complete on the market consisting of auxiliary belts, tensioners, auxiliary kits, damper pulleys, damper pulley kits, overrunning alternator pulleys, air conditioner bearings…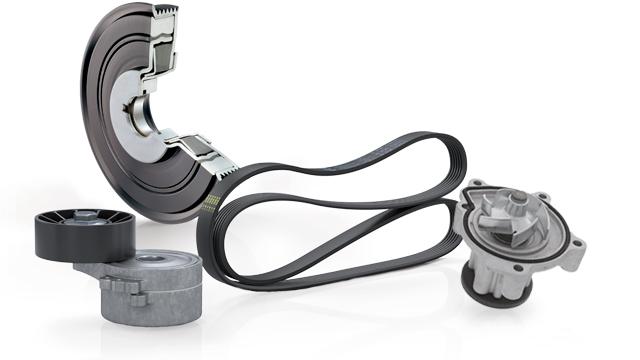 Auxiliary kits with and without water pump
This complete repair solution, includes the auxiliary belt, tensioners, idler and any other necessary components. Auxiliary kits with water pumps also contain the water pump.
The advantage of the kit?
All the necessary components in one box
No identification issues
Only a single reference to order and stock
Guaranteed OE quality parts
Auxiliary idlers
Auxiliary idlers create the correct tension in the auxiliary belt. They make it possible to compensate for the variation of the driven elements, as well as compensate for any stretching of the belt due to wear. Choosing good quality tensioning idlers is crucial for your engine.
NTN technology :
automatic tensioners: they absorb transient high loads, prevent slippage of the belt, and reduce noise.
mechanical tensioners: they absorb movement by means of a tension spring
idler pulleys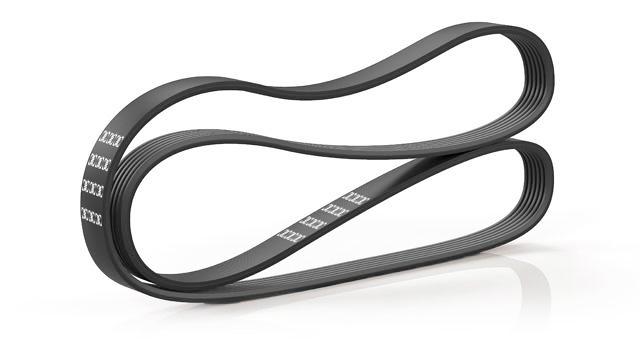 Auxiliary belts
The auxiliary belt provides the drive to the auxiliary system components: alternators, power steering pumps, water pumps (dependent on installation), air conditioning compressors….
Therefore, SNR auxiliary belts are:
developed and optimised in terms of length, with tolerances matching those used in original equipment
validated for use in each vehicle
Because the auxiliary belts – grooved or trapezoidal – are life limited, NTN recommend to:
check regularly for wear
respect the replacement period as recommended by the manufacturer and/or by NTN Europe
immediately replace any damaged belt
Crankshaft damper pulleys kits
This is the complete replacement solution, which includes a damper pulley and fasteners.
Crankshaft damper pulleys reduce vibrations due to irregularities from the crankshaft. It provides the best operation of the belt and the other driven elements.
A quality pulley ensures a high level of protection for the engine and reduces the risk of any damage.
The 160 part numbers for SNR crankshaft damper pulley kits, which offer:
smooth running
a high level of dampening and protection of the engine
increased service life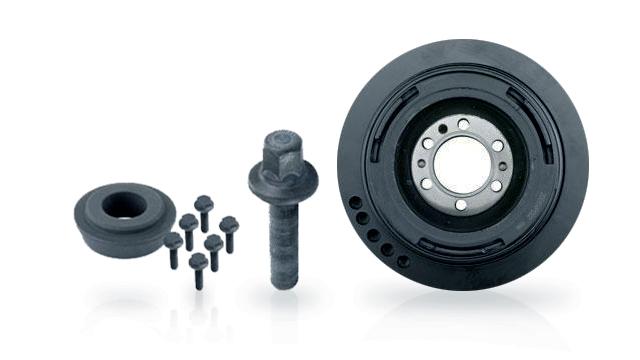 Did you know that... ? Installing a damper pulley subjects the bolts to extreme strain, sometimes even to their elastic limit. When a damper pulley is removed, the bolt(s) absolutely must be replaced, and if there is a thrust washer on the old bolt. Be sure to transfer it to the new one!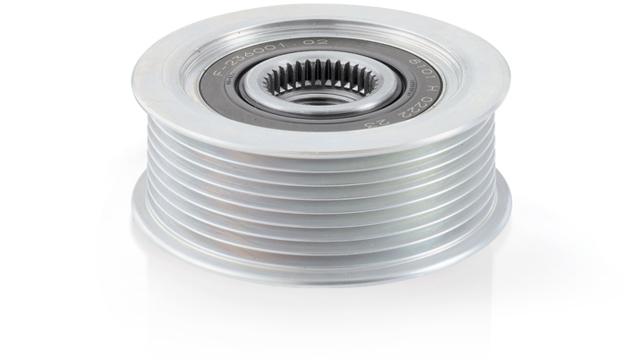 Overrunning alternator pulleys (OAP)
The overrunning alternator pulley reduces the variations related to engine deceleration and sharp variations in speed and torque. It drives the alternator during the phases of acceleration of the crankshaft.
It also provides protection and extends the service life of the belt and auxiliary systems.
Overrunning alternator pulleys offered by NTN Europe are designed to:
meet the operating conditions of modern engines that are increasingly complex
limit the risk of failure of the alternator
As such, we recommend regular inspection of overrunning alternator pulley operation and replacement if necessary whenever replacing auxiliary belt-driven system components in the course of routine preventive maintenance.
Everything about automotive spare parts in our brochures See the DOCUMENTATION
Find all the parts in the online catalog Open e-Shop
Manufacturer recommendations, in the words of our expert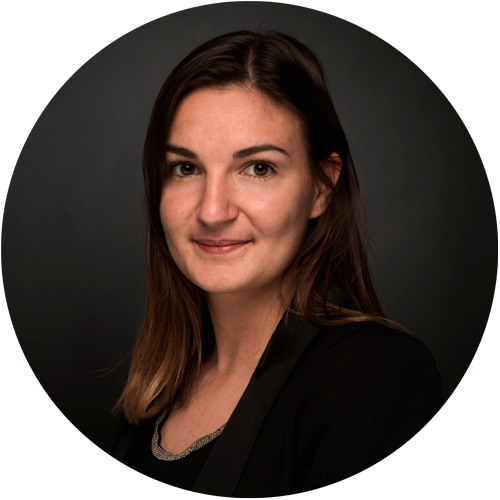 With our 3 production sites (in Iwata and Nagan, Japan, and Mettmann, Germany), NTN Europe is a major player in the distribution and accessory sector. We manufacture more than 10 million pulleys and more than 40 million bearings for pulleys every year, all of which are 100% tested and inspected. Our expertise also allows us to develop new products and extend our ranges for future markets.
Anaïs Le Fouler - Product Line Manager, Automotive Aftermarket NTN