NTN-SNR offers you a wide range of universal or special self-aligning bearing units.
The NTN-SNR range of self-aligning bearing units offers a number of solutions for industrial applications that meets the criteria for cost, reliability and ease of installation.
NTN-SNR

self-aligning bearing units, a basic range with plenty of advantages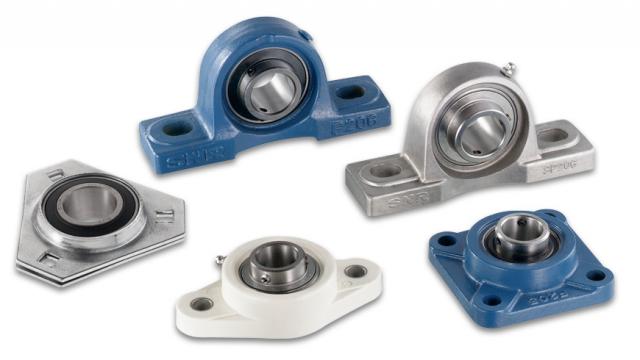 The range of NTN-SNR self-aligning bearing units is wide, with more than 40,000 possible combinations. It covers the majority of industry solutions, all at a very attractive economic cost.
Installing a self-aligning bearing unit is simple and easy to do for anyone, without the need to have specialist technical skills. Indeed, they are simply: housing + bearing insert.
Self-aligning bearing units, a combination of housings and bearing inserts
Each self-aligning bearing unit is made from a combination of HOUSING / BEARING INSERT, to provide the ideal solution.
Housings
The NTN-SNR range of housings sets itself apart with its large choice of designs. There are a large number of possible options: pillow block housings, flanged units, take-up housings, cartridge housings and hanger housings. In addition, our housings are designed for the simple installation of NTN-SNR bearing inserts.
Housings in the NTN-SNR range are available in a variety of materials: grey cast iron, pressed steel, stainless steel and thermoplastic. All single-piece housings are supplied with a re-greasing system to provide for lubrication of the bearing inserts.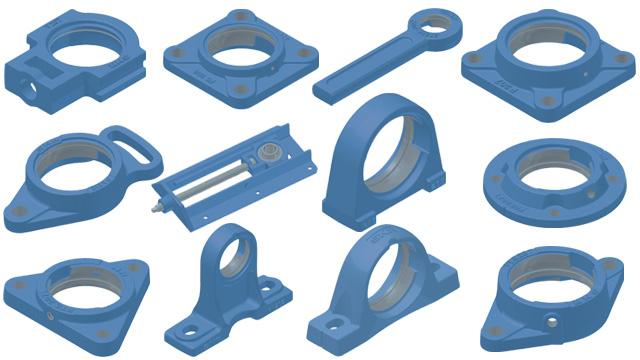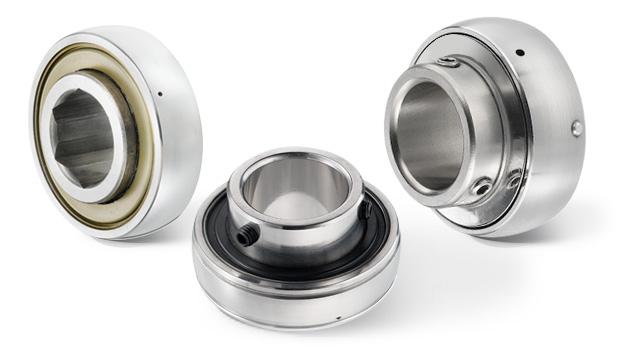 Bearing inserts
Bearing inserts have a spherical outer diameter. They are designed around the internal geometry of a single-row deep groove ball bearing, series 62 and 63.
The housing has a matching spherical shaped seat in which the bearing insert sits, making it easy for them to be assembled together. NTN-SNR offers sealed, lubricated for life, bearing inserts for easy maintenance.
The self-aligning ability, in all directions, of the bearing inserts can compensate for any slight static mis-alignment of the shaft. The various fixing methods on the extended inner ring provide very simple mounting on to the shaft.
Accessories
In addition to housings and bearing inserts, NTN-SNR offers a choice of components to increase the performance of the bearing unit:
protective end caps to protect against external pollution; humidity, occasional shocks, ends of the shafts…
floating bearing screw to compensate for shaft expansion due to temperature changes.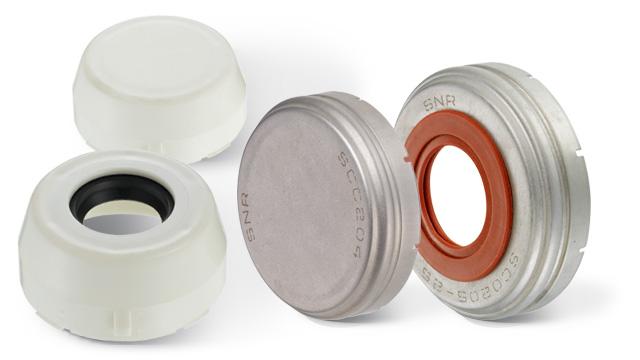 Self-aligning bearing units, a wide and varied range
Self-aligning bearing units are designed to be used in a wide range of applications and machines in the industrial market. The choice depends on the use, the installation and the operating conditions to which they are subjected:
speed, accuracy, cost effectiveness
type and level of load, service temperature range
installation, levels of cleanliness
noise requirements, environmental pollution, degree of sealing
anti-corrosion protection, compliance with standards
frequency of maintenance
presence of condition monitoring system

To meet requirements, the bearings have special technical features:
designs: split or flanged plummer block housings, take-up housings, cartridge bearing units and hanger bearing units.
sizes: for shafts with diameters from 12mm to 140mm
material: grey cast iron, stainless steel, pressed steel, thermoplastics
locked onto the shaft by means of: setscrew, eccentric locking collar, adapter sleeve, press-fitting
sealing system: lip seal, triple lip seal (L3), multiple seals (L4), contactless seal, flexible seal (ESR)
lubricants: standard grease, high and low temperature grease (T20, T04), food grade grease, noise quiet grease, solid lubricant
Discover the range of self-aligning bearing units Open the eCatalogue
Self-aligning bearing units for every solution
Either with the existing range or the development of specific product, NTN-SNR is able to provide a solution for all applications, to help you with: improving operational safety, improve the productivity of your machine…
Self-aligning bearing units suitable for all industries
Self-align bearing units are particularly recommended for their suitability in the following applications and industries:
handling and transport
agricultural and agri-food machines
protection of the local environment and preservation of critical locations
textile machines, fitness equipment, car washes
sawmills, woodworking machines
air conditioning and ventilation
packaging, paper and cellulose processing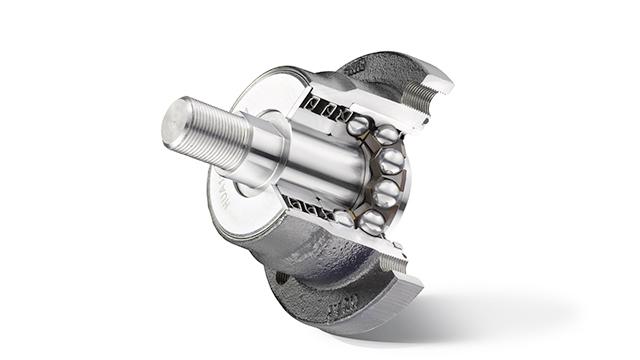 NTN-SNR develops products for specific applications
For specific applications, NTN-SNR develops the perfect products 
in the agricultural sector, the AGR series. Bearing inserts for self-aligning housings specific for some  agricultural machinery suitable for tillage machines (roller compactors, rotary harrows, disc harrows, cultivators...). 
for air conditioning and ventilation, the installation of bearings / bearings with ESR and CESR rubber ring ensures almost vibration-free and silent operation. In addition, these bearings require almost no maintenance.
in the food industry, self-aligning bearing units require specific features:

surfaces conformant to contact requirements
smooth external surfaces (no traps for dirt, food grade grease which meets the requirements of USDA H1 Food-Grade and FDA)
bearings without re-lubrication: solid lubricant for good protection and internal/external sealing 
protective end-caps for cleaning and maintenance